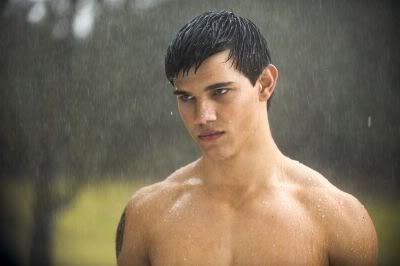 There's a new interview with Taylor Lautner from when he filmed
New Moon
in Vancouver, and it reveals that he'll actually be doing dirtbike stunts on his own–
Q: Were you doing any stunts today?

I've been doing a lot recently, yeah. The cool thing is, they've pretty much let me do most of my stunts. I got to do all the dirt bike riding, I got to do this really cool sequence that I'm actually not going to tell you about, because I want you to wait to see it. But yeah, the stunts have definitely been my favorite part so far.
For those wondering about how much we'll see of Taylor shirtless in
New Moon–


Q: What percentage of time would you say you spend shirtless? 

I'd say the same as the books. I'm not going to give you a specific percent, but the great things about this series, and the movies , is we stay true to the books. So if you read the books, you know what the movie's going to look like.
Check out the whole interview at HitFix.
[THANKS TO: NMM]