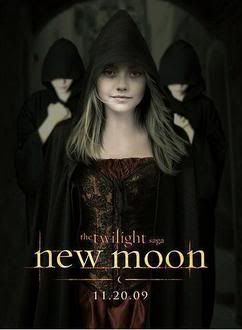 The New Moon madness continues as the veil of non-disclosure was lifted today, with another media outlet sharing their set report from Vancouver.
Lizerne Guiting has a report for Fandango, and she notes–

The Voluturi! Oh the Volturi! They're straight from the pages of Stephenie Meyer's book! The freaky red eyes, pale skin, the chic Italian clothes, a family crest pendant – everything down to the smallest detail — suits their coven perfectly. They make a deliciously deadly vampire mafia. We got to watch Rob Pattinson and Kristen Stewart film a bunch of scenes near the film's ending, and also interviewed a LOT of the cast and crew: Taylor Lautner, Michael Sheen, and Rachelle Lefevre to name a few.
Read the report over at Fandango.
UPDATE: There's another report from MSN that covers similar territory from a fan's perspective.
[thanks to: NMM]