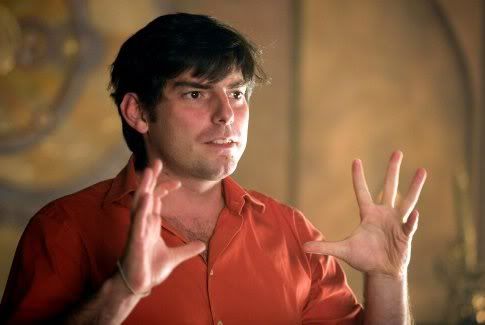 There's an amazing new interview with New Moon director Chris Weitz, and he reveals tons of new information that fans have been dying to get their hands on. Among them?–


Even Weitz was surprised with how quickly Phil Tippet's company turned around the Jacob wolf shot at the end of the first teaser trailer. The shot has gone through numerous iterations and is much more photorealistic than that version.
He'll be submitting a director's cut of the film to Summit within the next two weeks.
Thom Yorke and Kings of Leon are interested in contributing to the film's soundtrack.
The movie within a movie, "Facepunch," will only be heard — not seen.
His vision of the Volturi is very much like the book and unlike a number of fan inspirations that have hit the web. He also sees them as having gone slightly insane after living for 2,000 years.
He's met with David Slade and expects the filmmaker's vision for "Eclipse" to be different than what he's doing with "New Moon," but with the same actors and visual effects team.
He's flattered that fans want him to direct "Breaking Dawn" without seeing "New Moon," but thinks the fans will want Slade to do it by the time "Eclipse" comes out.
Weitz needs to turn the film in by Oct. 30 to strike prints or if not, they are in "big trouble" to make the release date.
There is boatloads more, so check out the whole interview over at Hitflix to read all the additional information!
Rotten Tomatoes also shares some info from Chris Weitz, where he reveals the proposal scene has not been cut–
"It hasn't been cut out, I can tell you that much," Weitz carefully shared. He paused to compose his answer, making sure not to reveal too much. "It's not going to hit them in exactly the way that they think it's going to, but I will say that — how can I put it? –it's going to be quite special. I kind of saved all of my gusto for that moment. I don't think it will disappoint.

[Thanks to NMM]